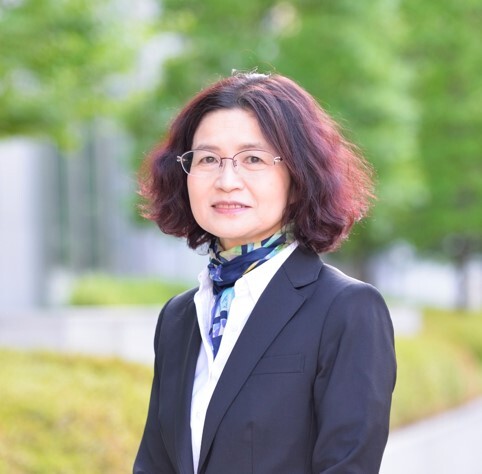 Miki Haseyama Ph.D.
Vice Dean and Professor of Graduate School of Information

Science and Technology, Hokkaido University, Sapporo, Japan

Adviser to the President

Director, Education and Research Center for Mathematical and

Data Science

Director, Front Office for Human Resource Education and

Development Support Office for Female Researchers

Deputy Director, Office for Institutional Research
E-mail: miki@ist.hokudai.ac.jp

RESEARCH INTEREST
Prof. Haseyama was an Assistant Professor at the Research Institute for Electronic Science, Hokkaido University in 1989 and an Associate Professor at the Graduate School of Information Science and Technology, Hokkaido University in 1994. She was a Visiting Associate Professor at Washington University, USA from 1995 to 1995. She is currently a Professor at the Graduate School of Information Science and Technology, Hokkaido University. Her research interests include multimedia signal processing such as image, acoustic, music, video
signal processing and new generation information access systems.
Prof. Haseyama has proposed leading-edge multimedia navigation systems that have been highly rated by the international community. She received the IEICE best paper award in 2008. Multimedia navigation systems created by Prof. Haseyama and her team, such as Image Vortex, Easy Finder, Sim Soccer, Image Orbit, Video Sphere, Video Vortex and Tri-media Vortex were exhibited in CEATE JAPAN, which is the largest Asian IT and electronics exhibition and conference. Furthermore, through the collaboration with foreign R&D projects such as Quaero, CHORUS and Theseus, her achievements were highly appreciated.
Prof. Haseyama has been a Board member/Chief Technical Adviser of the Information Grand Voyage Project, Ministry of Economy, Trade and Industry, Japan; an Expert Member of the Information and Communication Council, Ministry of Internal Affairs and Communications, Japan; a Member of the Research Council for Broadcast Technology, Japan Broadcasting Corporation (NHK); a Member of the Science Council of Japan; a Director, International Coordination and Publicity of The Institute of Electronics, Information and Communication Engineers (IEICE); a Vice-President of the Institute of Image Information and Television Engineers, Japan (ITE); an Editor-in-Chief of ITE Transactions on Media Technology and Applications, and other organizations.
EDUCATION
B. S. 1986, Hokkaido University, Sapporo

M. S. 1988, Hokkaido University, Sapporo

Ph. D. 1993, Hokkaido University, Sapporo
PROFESSIONAL HISTORY
Apr. 2006 – Present  Professor, Graduate School of Information Science and Technology, Hokkaido

University

Apr. 2004 – Mar. 2006  Associate Professor, Graduate School of Information Science and Technology,

Hokkaido University

Apr. 1997 – Mar. 2004  Associate Professor, Graduate School of Engineering

Oct. 1995 – Mar. 1997  Visiting Associate Professor, Washington University, USA

Jan. 1994 – Mar. 1997  Associate Professor, Faculty of Engineering, Hokkaido University

Apr. 1992 – Dec. 1993  Research Associate, Section of Informatics and Processing, Research Institute of

Applied Electricity, Hokkaido University

Aug. 1989 – Mar. 1992  Research Associate, Section of Electronic Circuits, Research Institute of Applied

Electricity, Hokkaido University
ACADEMIC SOCIETY
The Institute of Electrical and Electronics Engineers (IEEE) Member

The Institute of Electronics, Information and Communication Engineers (IEICE) Member

The Institute of Image Information and Television Engineers (ITE) Member

Information Processing Society of Japan (IPSJ) Member
PROFESSIONAL ACTIVITIES
Expert member, Information and communication council, Ministry of Internal Affairs and

Communications, Japan

Member, sectional committee for next generation intelligent information access technology, Information

Grand Voyage Era, Ministry of Economy, Trade and Industry, Japan

Board member / Chief Technical Adviser, Information Grand Voyage Project, Ministry of Economy, Trade

and Industry, Japan




Member, research council for broadcast technology, Japan Broadcasting Corporation (NHK)

Vice-President The Institute of Image Information and Television Engineers, Japan (ITE)

Editor-in-Chief ITE Transactions on Media Technology and Applications

Director, International Coordination and Publicity, IEICE
RESEARCH ACHIEVEMENTS